Amana Bank wins "Deal of the Year" at the 2021 SLIBFI Awards – Financial News
[ad_1]
---
Amana Bank received the Gold Award for Financial Transaction of the Year at the recently concluded 2021 SLIBFI Awards, which were awarded by KPMG and hosted by UTO EduConsult.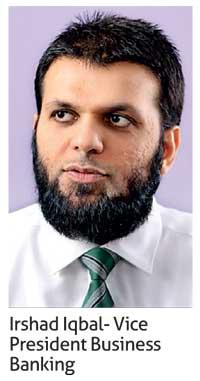 The deal of the year award was given to the bank for funding the operations of Fits Aviation, a private airline that operates both international and local passenger and freight flights.
The bank provided financing to restructure the long-term financing of the business as well as for the working capital needs of a newly leased A320-200, which was converted from a passenger plane to a cargo plane in PF mode.
Commenting on the receipt of this award, the bank's Vice President Business Banking, Irshad Iqbal, said: "We are truly honored to have won the Business of the Year award, which is a testament to the relevance of our interest-free funding model for large-scale project funding. .
At a time when the country focused on export promotion, we are happy to partner with Fits Aviation, which in time helped local industries meet their export requirements by providing reliable air cargo service, especially for perishable goods, at a time when many international freight flights were limited.
Fits Aviation, which bears the FitsAir brand, is a pioneer in the Sri Lankan aviation industry and is the first private Sri Lankan airline to be licensed for international cargo operations by the Civil Aviation Authority of Sri Lanka. Lanka.
Additionally, Fits Aviation is a BOI approved entity that currently operates a fleet of One Air Bus A320-200, One ATR-72, Two Cessna 208 and Two Cessna 152, which are flown by professionally trained local pilots and a cabin crew.
The company operates freight flights from Bandaranaike International Airport to Male, Dubai, Singapore, Indonesia Nairobi Bangalore, Kotchi, Trivadnrum, Chennai, Yangon and Saigon, with plans to expand destinations on the induction of the second A320-200 before the end of the year.
The airline will soon begin operating scheduled domestic passenger flights to Jaffna and Batticaloa via its ATR-72 aircraft, while also offering charter flights, scenic flights and parachute dives via its Cessna 208 planes. Pioneering as a leader among small operators, the airline plans to start international passenger flight operations from Ratmalana and Jaffna airports.
[ad_2]